From late 1982 through 1984 the Garage/Psych "scene" at the Dive consisted of many bands from both the city and the tri-state area. Along with the Cheepskates bands such as the Outta' Place and the Tryfles virtually debuted their acts at the club. Others such as the Vipers, the Fuzztones, and the Mad Violets, would play the Dive as well as larger venues both in and out of the city.
A band from Long Island named the Mosquitos could always be counted on for a fast paced, Mersey Beat driven show. And the contributions from New Jersey included the band Mod Fun, as well as the Creeping Pumpkins, which was an off-shoot of the Thursday night film series "The Gore Gazette Presents".
From 1985 through 1986 more bands would form and use The Dive as their stepping-off point. The Headless Horsemen, the Optic Nerve, the Raunch Hands, and (from Long Island) the Secret Service, are some of the bands that would open for the aforementioned "established" acts or touring bands that were now being booked to perform at The Dive due to it's newly found reputation as "the club to play".
1984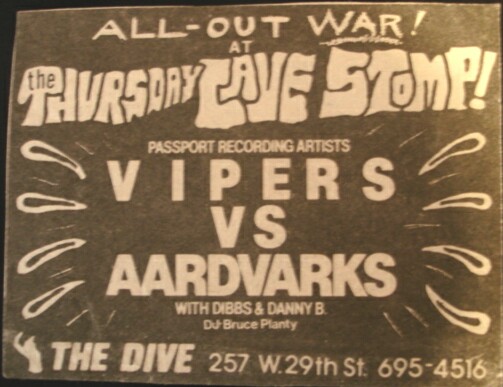 Ad courtesy Tony Matura
This page will try to relate some of the stories that performers, and audience members have of those times. Just click on a name to read their remebrance. This list will grow as more stories are related.
Michael Stark - Bassist: The House Pets, Stinky and the Skunks. Editor: Trashbeat
Paul Martin - Guitarist: The Vipers
Michael Chandler - Singer: The Outta' Place, The Raunch Hands
David John Herrera - Guitarist, Vocalist: The Cheepskates
Peter Landau - Drummer: Swamp Goblyns, Da Willys
Blair Buscareno - Editor: Teen Scene
John Fay - Guitarist, Vocalist: The Tryfles, Stinky and the Skunks
Jordan Tarlow - Guitarist: The Outta' Place, Fuzztones